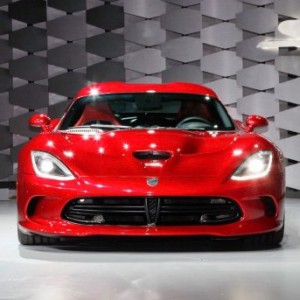 The 2013 DFW Auto Show is "ready to rumble."
Starting today and continuing through the weekend at the Dallas Convention Center, there should be plenty to interest anyone who as any interest in automobiles.
The auto show, which got its start more than 30 years ago, "now boasts more than half a million square feet of new cars, trucks and SUVs," according to publicity for the event. The 700 vehicles in the show represent more than 40 automotive manufacturers, from Ford to Ferrari, from Jeep to Jaguar.
Despite higher gas prices, "the stars among this year's cars put rpms ahead of mpgs," trumpeted a headline for a story by automotive writer Terry Box published Sunday in The Dallas Morning News.
It's a great place to get in the mood to purchase a new vehicle this spring.
"About the only car conspicuously absent from the show will be the 2014 Corvette, which Chevy dealers had pressed hard to get," wrote Box in his story. "Chevrolet has only a limited number of pre-production Corvettes, and they had been sent to shows in Europe and Japan."
But there still will be plenty of automotive star power at the convention center.
"Luxury dealers return this year with a 'high-end' area of $100,000-plus vehicles from Aston Martin, Bentley, Ferrari, Lamborghini, McLaren, Maserati and Rolls-Royce," reported Box. Some showstoppers include the 2013 SRT Viper (Chrysler Group), the Ford Atlas concept F-series pickup, Jaguar's F-type roadster, the "all-new" Mazda6 sedan, and Aston Martin's "stunning" Vanquish.
Among the other show features is a "Ride & Drive Event" scheduled Friday, Saturday and Sunday, and including cars, trucks, crossovers and SUVS from Ford; General Motors (including Buick, Cadillac, Chevrolet and GMC); Chrysler, Dodge, Fiat, Jeep and Ram; Kia; Mazda, and Subaru.
"One of the most anticipated annual events in the Metroplex, the DFW Auto Show in Dallas is the ideal opportunity for consumers to compare styling and pricing of every major line make under one roof in just a few hours," according to the auto show's website.
That means the show floor likely will be jammed with visitors, contributing to "an abundance of optimism as dealers officially kick off the spring selling season."
If you are among the auto show visitors (or anyone else) looking for a new vehicle, then you probably will be looking for financing, as well. That's when you should think about RoadLoans for a fast-and-easy auto loan.  It's a simple three-step application process with instant confirmation – no long waits for a decision on your car loan or refinancing application. It only takes a few minutes to complete RoadLoans' car loan and auto refinancing applications.