Two classic cars associated with two classic movies – well, sort of – go on the auction block this month far removed from their glory days and from the glitter of Hollywood.
Enter Herbie, a 1963 Volkswagen Beetle, from The Love Bug movies and a Smokey and the Bandit "tribute car" owned for the last year by Burt Reynolds, who played the Bandit in the 1977 movie. The tribute car is a restored 1977 Pontiac Trans Am that was not actually in the movie.
The Love Bug goes up for auction at Barrett-Jackson's April 17-19 event in Palm Beach, FL, while Reynolds' Pontiac Trans Am will be available at a Carlisle Auctions event April 23-24 in Carlisle, PA.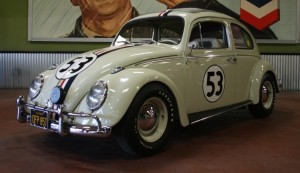 Herbie – though not this particular car – gained fame in the original Love Bug movie (1968), which led to three sequels named for the car. This Herbie is better known to movie fans as the "oil squirter" because it squirted on a police officer's foot in the 1977 movie Herbie Goes to Monte Carlo.
"In the movie[s], Herbie is a spunky, race ready Beetle with a personality of his own, able to drive by himself, throw tantrums and even play pranks on unsuspecting victims," according to NYDailyNews.com.
The vehicle that will be auctioned in Florida, which is one of the few drivable versions of the car, includes Walt Disney Productions as a previous owner.
"Unlike many of the Herbies, the one actually drives, and was used for both driving and interior shots during its Hollywood career," said a Barrett-Jackson press release. "This Herbie retired after his final appearance in the 1980s Herbie Goes Bananas and was sold into private hands."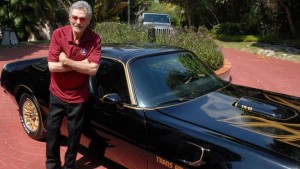 The Reynolds Trans Am is "identical to the car driven in the movie," said Rick Deiters, a Trans Am expert. "It's a correct Special Edition Y82 model with Hurst T-Tops, black deluxe interior and 6.6 liter engine."
Of the Trans Am, Carlisle Auctions said: "In addition to being a fine piece of restoration work and a true tribute to one of the most iconic cars in all of film, the car has been autographed by Reynolds. His signature adorns the hood and can be found again inside on the dashboard."
Other memorabilia from Reynolds, including two more autographs, also will go to the winning bidder.
The auction follows the December sale of another 1977 Trans Am from Reynolds' collection that went for $450,000, although bidding on this one isn't expected to go as high. That car wasn't in the movie, either, but was used for a Smokey and the Bandit promotional tour.