Quality, value and innovation.
Those three characteristics – or power, capability and value in the case of pickup trucks – give the best five vehicles of 2019 an edge on their peers, according to Cars.com.
But one vehicle stands out above all others, having "stormed through" the competition.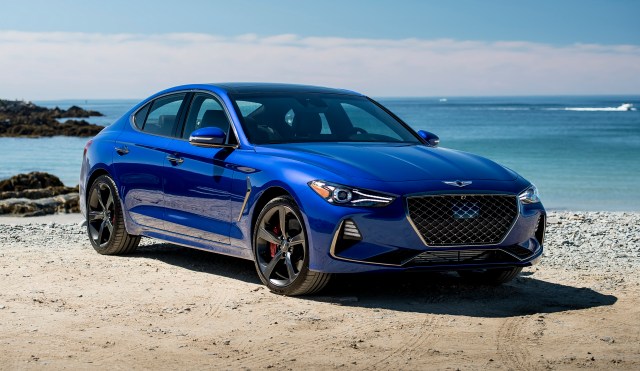 The best overall for 2019 is the Genesis G70 – a car – which goes to show how strong it is, said Jenni Newman of Cars.com, especially facing headwinds of consumer preference for SUVs.
"The Genesis G70 is as standout a choice as the editors have had in years," Newman said.
This was the 10th year for the "highly sought" awards that currently include best overall, best pickup truck, best family car, most fun-to-drive vehicle and top luxury car. The category winners beat out stiff competition, as many as five vehicles as in the case of the Genesis.
Overall, 18 vehicles were selected as winners and nominees, including the Jeep Wrangler, which was nominated as both the Best of 2019 and Most Fun-to-Drive.
Fiat Chrysler Automobiles was the only manufacturer with winners or nominees in four categories.
"The experts at Cars.com test hundreds of new cars each year with the goal of empowering car shoppers with the information they need to make better purchase decisions," said Newman. "By the end of the year, we narrow those choices down to recognize the best of the best."
Here are the Cars.com winners and nominees by category:
Best of 2019
Winner: Genesis G70
Nominees: Honda Insight, Hyundai Veloster, Jeep Wrangler, Toyota Corolla Hatchback and Volvo XC40
Pickup Trucks
Winner: Ram 1500
Nominees: Chevrolet Silverado 1500, Ford F-150 Diesel and GMC Sierra 1500
Family Cars
Winner: Chrysler Pacifica
Nominees: Ford Expedition and Volkswagen Atlas
Most Fun-to-Drive Cars
Winner: Mazda MX-5 Miata
Nominees: Honda Civic Type R and Jeep Wrangler
Luxury Cars
Winner: Mercedes-Benz S-Class
Nominees: Lincoln Navigator and Volvo XC90
"Our awards are designed to help consumers across a wide array of car segments and budgets … [and] for different types of lifestyles," said Newman.
Cars.com also provides videos of the winners, along with winners from 2016, 2017 and 2018.
Cars.com is an online automotive marketplace for buyers and sellers.