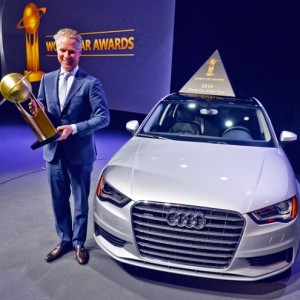 The Audi A3 was named World Car of the Year at the New York Auto Show, beating out two other finalists.
The other cars nominated for the award were the Mazda3 and the BMW 4 Series.
The nominations for World Car of the Year were announced several weeks ago at the Geneva International Motor Show in Geneva, Switzerland.
The BMW 4 Series and Audi A3 were named only in the World Car of the Year category, while the Mazda3 also earned a World Car Design of the Year nomination. Of the finalists, the Audi is second-most-affordable, priced from $27,270, more expensive than only the Mazda, which carries a price tag from $16,945. The BMW 4 Series is priced from $40,500.
"The A3 packs a hefty premium punch in the small luxury segment," said the award jurors. "Audi should be complimented for making this A3 ride like no other [previous] A3. All the old shimmer over rough surfaces has gone, replaced by a silky smooth ride that approaches limousine quality."
"The Audi A3 showcases Audi's technical competence in all aspects of carmaking, not least in the areas of lightweight technology, drivetrain, mobile infotainment and driver assistance systems," said Rupert Stadler, board chairman of Audi AG after the award was announced. "This major award win is an achievement that the whole company can celebrate."
The World Car of the Year finalists were selected from an initial entry list of 24 vehicles worldwide. To be eligible for the overall World Car award, candidate vehicles must be available for sale on at least two continents during the period beginning Jan. 1, 2013, and ending May 31, 2014.
Among the other category winners, the BMW i3 won both categories in which it was nominated, World Green Car and World Car Design of the Year. Meanwhile, the Mercedes-Benz S-Class won the Luxury category and the Porsche 911 GT3 won the Performance group.
The only U.S. automaker represented was Chevrolet – the Corvette Stingray in the Performance group.
Besides Car of the Year, category nominees, with starting prices where available, were:
Luxury – Bentley Flying Spur ($200,500), Mercedes-Benz S-Class ($92,900) and Range Rover Sport ($62,600). This was the first year for a category dedicated to higher-priced premium models.
Performance – Corvette ($51,000), Ferrari 458 Speciale ($298,000) and Porsche 911 GT3 ($84,300).
Green – Audi A3 Sportback g-tron (+ Audi e-gas), BMW i3 and Volkswagen XL1.
Design – BMW i3, Mazda3 and Mercedes-Benz C-Class ($36,250).
Now in their 10th year, the annual World Car Awards are "the number one awards program in the world" based on Prime Research's 2013 report. The awards were inaugurated in 2003, and officially launched in January 2004, to reflect the reality of the global marketplace, as well as to recognize and reward automotive excellence on an international scale.