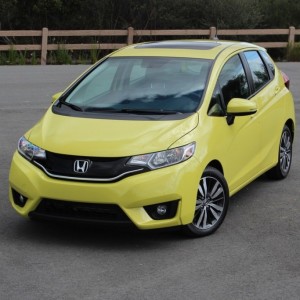 And the winners are …
No, not Academy Award winners. You'll have to wait until Feb 22 for those.
We're talking about U.S. News & World Report's "2015 Best Cars for the Money" award winners.
American Honda Motor Company and its luxury brand Acura won the most categories (3 each), with 10 other brands sharing the remaining 15 ranging from subcompact cars to full-size pickup trucks.
"With new cars selling at record prices, shopping for a car that meets both your budget and lifestyle is an overwhelming process," said Jamie Page Deaton, managing editor of U.S. News Best Cars. "The awards help car shoppers quickly identify models that are great values and a pleasure to own."
RELATED: "Where (and why) shoppers should look for 'Best' used vehicles before buying"
Honda won for subcompacts (Fit), hatchbacks (Fit) and compact SUVs (CR-V), while Acura took awards for upscale midsize cars (TLX), luxury compact SUVs (RDX) and luxury three-row midsize SUVs (MDX).
"In recent years, Honda has focused on providing more standard features in its Honda products and sportier performance for Acura models," said Page Deaton. "That focus has resulted in more praise from professional car critics. Consumers now have more reasons beyond value to buy a Honda or Acura."
Other brands winning more than one category were Volkswagen for compact cars (Golf) and sports cars (GTI), Hyundai for midsize cars (Sonata) and three-row midsize SUVs (Santa Fe), Toyota for hybrid cars (Camry) and hybrid SUVs (Highlander), Chevrolet for large cars (Impala) and compact pickup trucks (Colorado), and Mazda for large SUVs (CX-9) and minivans (Mazda5).
Other winners were Audi for upscale small cars (A3), Subaru for wagons (Outback), Nissan for two-row midsize SUVs (Murano), Lexus for two-row midsize SUVs (RX 350) and Ram for full-size pickups (1500).
U.S. News' rankings go beyond the winners, though, identifying two additional "finalists" in 18 of 21 categories for a total of 60 vehicles overall. For example, in the subcompact cars category, which was won by the Honda Fit, other finalists were the Ford Fiesta and Kia Rio.
Best Cars' method for determining its rankings involved a combination of quality and value data. The quality rankings compare cars on the basis of safety, reliability and a consensus of opinions by industry experts, while value is measured by a combination of five-year total cost of ownership and TrueCar Inc.'s average price paid for the vehicle at the time the awards are published.
For the complete list of winners and finalists, see "2015 Best Cars for the Money" at U.S. News.