It's a long walk from West Point, NY, to Dallas, TX.
And even longer from Seattle, WA.
But, in the true spirit of Memorial Day, participants in "Carry The Load" relay marches will have covered 2,100 miles and 4,100 miles, respectively, to remember those who have sacrificed for our country.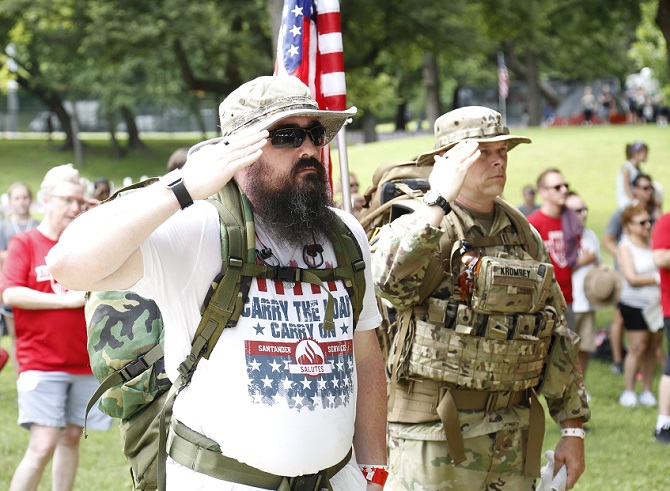 Santander Consumer USA (SC), which is headquartered in Dallas, will help complete the journey by participating in the Dallas Memorial March, a two-day event, May 28-29, which has been described as an opportunity to "remember, honor and celebrate American military, law enforcement, firefighters and rescue personnel who dedicate their lives to keeping our country and homes safe."
Last year's march provided several thousand participants, including SC associates, the chance to walk Sunday afternoon into Monday morning culminating the East Coast and West Coast relay marches. SC Colorado and Mesa, AZ, locations also participate in Carry The Load.
"Everyone has the chance to participate as they wish, with some even carrying a load during the walk as a symbol of carrying others – which is, to me, the most compelling aspect of Carry The Load," Jason Kulas, Santander Consumer CEO, said at last year's march. "We are proud to join an organization committed to honoring those who defend this country and extend our freedom."
The event concludes at 3 p.m. with observance of the National Moment of Remembrance.
Carry The Load is a non-profit organization dedicated to providing "active, meaningful ways to honor and celebrate the sacrifices made by our nation's heroes" and raises funds for veterans support.
Millions of Americans will mark the Memorial Day weekend with barbecues or picnics, attending concerts or baseball games or going to the beach, the lake or the mountains. Indeed, AAA Travel estimates that about 40 million people – about one in nine Americans – will travel 50 miles or more from home to mark the start of summer and warmer weather ahead.
"It's easy to forget what Memorial Day actually means while you're sitting by the pool and looking ahead at summer vacation, but the day signifies much more than just a three-day weekend," wrote Tessa Berenson in Why do we celebrate Memorial Day? in Time online. "Memorial Day is a solemn day of remembrance for everyone who has died serving in the American armed forces."
With all the fun things to do on the Memorial Day weekend, it's important to leave some time to recognize the holiday – formerly Decoration Day – and those it represents.
And help carry the load.