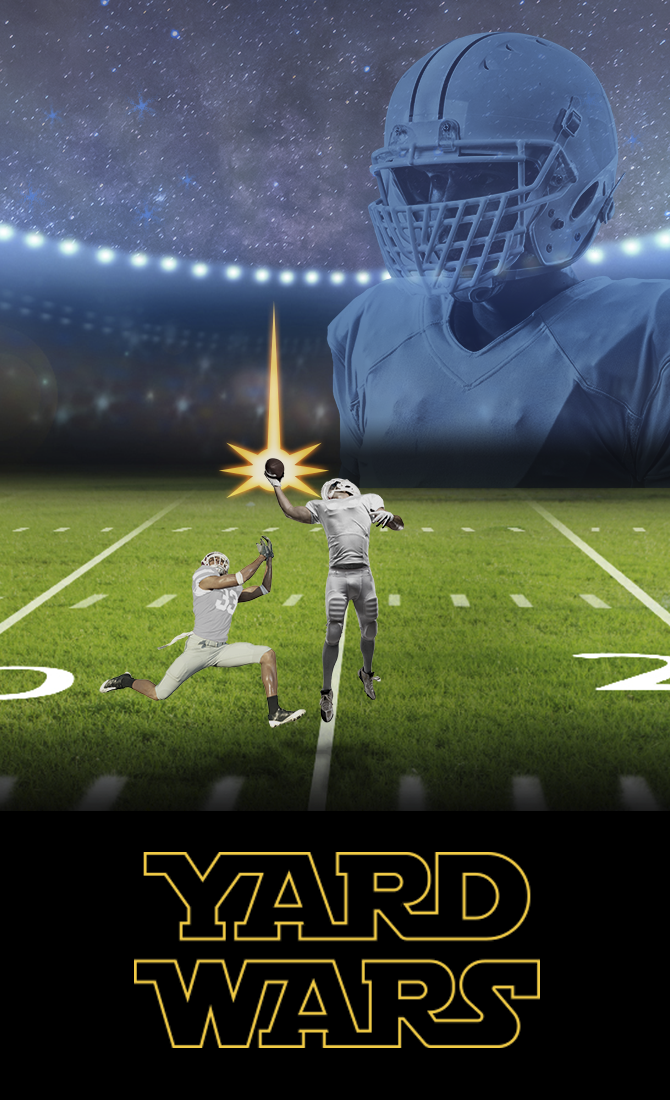 Long ago, in a galaxy far away …
OK, well, maybe not that long ago or far away, Santander Consumer USA ran a Pro Football Pool for its auto dealers that has been as popular as a Wookie on a spaceship.
Now, we're launching a similar contest so that you and the whole galaxy can get in on the fun.
The first-ever Santander Pro Football Pool, "Yard Wars," FOR CONSUMERS ONLY, begins a 17-week saga of yardage battles starting Thursday, Sept. 10, with the Pittsburgh Steelers playing the defending champion New England Patriots, and continuing with all the games of opening weekend.
To make sure things are as exciting as a dash through an asteroid field with Han Solo and the Millennium Falcon, there will be weekly winners and prizes, plus an overall contest winner.
We would be honored if you would join us, and may the scores be with you.
If you participated in a previous Santander pool (World Cup, Oscars, etc.):
Go to RunYourPool.com
Log in with your Username and Password
Click on "Join an Existing Pool" on the header and enter Pool ID number 46623 and Password drive123 click the Go button
Click on the "My Account" link on the top-right of all pages
Click on "Santander Pro Football Pool"
This will ensure that you can keep using your existing login and password. The next time you come in with your own Username and Password, you will arrive at the Pro Football Pool.
If this is your first time logging in:
In the Pool ID box, enter the number 46623
In the Pool Password box, enter 'drive123′ (without the single quotes)
Fill out the form information, including a personal username and password. (Rest assured, this information will NOT be sold or utilized for spam email under ANY circumstances.)
Make your weekly pick (see "How the Pool Works" below), with the ability to change them right up until your pool's deadline.
How The Pool Works:
Picks are made "straight up," not using a point-spread system.
Each pool member picks every NFL game for the week.
In addition to picking the winning team, members must rank how confident they are that the team they picked will win. The more points assigned to a pick, the more confident they are that team will win.
For each correct pick, they receive the number of points they assigned to that pick.
Standings are calculated for the week and for the year-to-date.
We'll also be tweeting throughout the season, so be sure and follow us on Twitter (https://twitter.com/SantanderUSA) to keep up with the latest information
Like us on Facebook, where we will announce the winner(s) for each week on our Facebook page (https://www.facebook.com/SantanderConsumerUSA). Upon receiving your prize, winners are encouraged to submit a photo of you for us to post on Facebook.
A brief reminder: You must get your picks in by the weekly deadline — before the first game each Thursday. You can modify the remainder of the games up until the Thursday deadline. All picks will be hidden until the first kickoff on Thursday. If you have any questions, please Read the FAQ and check out the Message Board. If you still have questions, feel free to post it on the public message board. You can always ask your administrator ddonascimento@santanderconsumerusa.com.
PLAYER RULES: No entry fee required. No purchase necessary. Void where prohibited. This League is intended to be exclusively for consumers (from here on "Players") at Santander Consumer USA (SCUSA – from here on "League Owner"). Each Player is allowed one Player identity. Multiple aliases or shadow-players created by the same person are considered unsportsmanlike conduct. Each week a really cool prize will be awarded to the winning Player (prize value will remain below the 1099 threshold). League Owner reserves the right to suspend Players for any real or perceived unsportsmanlike (or unsportswomanlike) conduct. By participating, Players agree to have fun, play fair and hold harmless League Owner for any real or perceived claims of liability.
For official rules, click here.