The best matches sometimes require a matchmaker.
And so it was with the match between Santander Bank, N.A., and Southern Methodist University.
Santander Consumer USA played a pivotal role in helping SMU and the Boston-based bank make the connection that has resulted in a study-abroad opportunity for graduate-level SMU art history students in which the bank will provide scholarships to study in Spain or Latin America.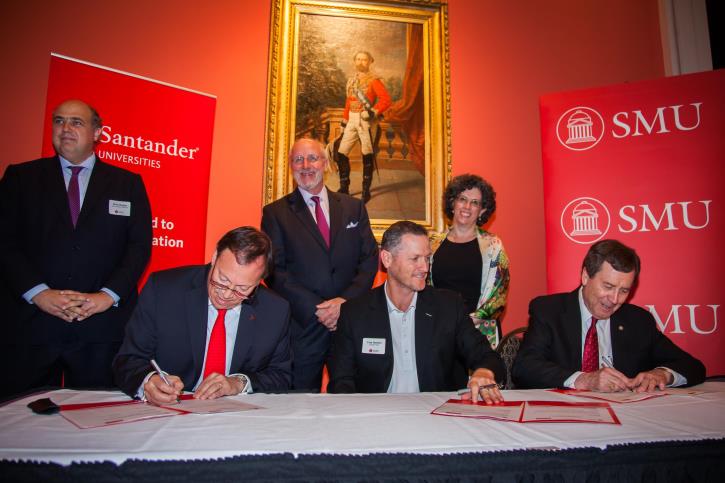 Santander Bank, which is based in Boston, MA, and Santander Consumer USA both are business units of global banking giant Santander Group, which has a very strong worldwide universities program.
"As a graduate of SMU, I can attest to the rewarding educational experience and the wonderful opportunities that students can participate in at the university," said Tom Dundon, chairman and CEO of Dallas-based Santander Consumer USA after the announcement. "Study abroad programs give students the opportunity to discover themselves, while experiencing different styles of education. They also learn about new cultures and countries that broaden their perspective of the world."
The funding will support classes such as those taught by Dr. Beatriz Balanta which recently included a trip to Brazil to visit galleries, museums, art studios and artists gatherings.
The SCUSA chief executive also wrote about the partnership on his blog:
"Southern Methodist University is the optimal place for Santander to establish a universities program in Texas with its renowned art history program and the stunning Meadows Museum, which houses the most extensive collection of Spanish art outside of Spain, and its location in a city which is known for its culture of philanthropy and financial support for the arts.
"Likewise, Santander has long valued the important role that art and creativity play in our collective history and culture. Indeed, the Santander global headquarters outside Madrid houses its own museum – The Santander Collection – with more than 1,000 works of art.
"Given that SMU was an early leader in understanding the importance of Spanish art history, I have no doubt that the partnership between SMU and Santander is destined for success."
Said SMU President R. Gerald Turner: "SMU is committed to offering its students challenging opportunities to study abroad as part of the University's pledge to produce graduates who are ready to step out and change the world. This gift will be well used and is much appreciated."