Most people shop for used vehicles.
While new-vehicle sales get most of the media attention – more than 17 million last year – preowned vehicles account for about two-thirds of all vehicles sold.
And nearly half of the vehicles sold by your local franchise car dealership.
RELATED
12 must-read blog posts before you go shopping for your next vehicle
Those sales numbers – as well as interest Santander Consumer USA (SC) customers have in their relationship with the lender – are reflected in our most popular blog posts for 2017 (with links).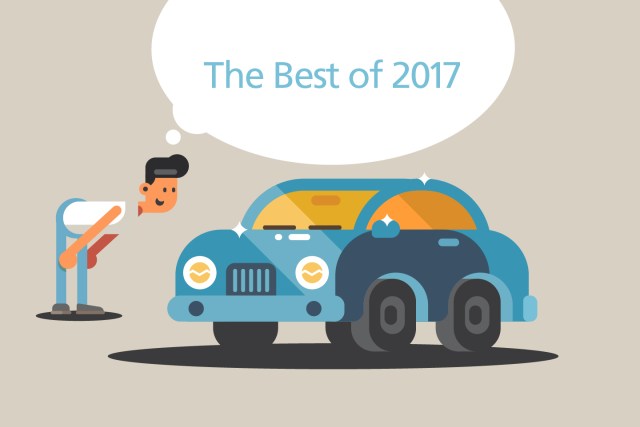 Here are the top 10 with the used-car related content noted by an asterisk:
1.
These are the 30 best used cars to buy – Consumer Reports*
This is far and away the most popular blog post of the year – as the previous version was last year. If you're shopping for a used vehicle, this is must-read material along with your other research.
2.
At Santander, we do all we can to empower customers – and here's how
Not counting the blog homepage, this post drew the second-most visitors with details from our Discover Santander series that included topics such as "How to keep your monthly vehicle payments up to date."
3.
If your car is worth less than you owe, you face the dreaded …*
An infographic highlights the "Upside Down Dilemma" and "helping car shoppers avoid falling into the large group of people who owe more on their vehicles than those vehicles are worth."
4.
How to keep your monthly vehicle payments up to date
In this blog post, we provide customers specific ideas intended to help them meet the multi-year commitment of paying off their car loan with Santander Consumer USA.
5.
How you'll know when it's the right time to purchase another vehicle*
We answer the question many Americans ask every year with two of the most important considerations, ballooning repair costs and the march of technology, while cautioning shoppers not to buy on impulse.
6.
Why and how you may find the right incentive to buy a new car now
While this blog post focused on the car-buying opportunities of late 2017, it also suggests more than a half-dozen resources to use if you're looking for incentives and rebates any time.
7.
These 21 used cars should be on top of your shopping list – CarGurus*
The great thing about best-used-car lists is that they're useful long after they are published because if the vehicles that make the lists are used then, they still are used – and worth considering.
8.
Where to find top-rated used vehicles from 1992 to the present*
Here's a go-to resource whether you're looking for a late-model pre-owned vehicle or one much older. Sorting through the used-car universe still may not be easy, but these two resources can help.
9.
Here are the most popular used vehicles in all 50 states*
This was a popular blog post even before we updated it at the end of 2017 – and the winner was the same by an even larger margin than it had two years earlier.
10.
MyAccount: One way Santander Consumer USA can make your life easier
This made the top 10 by showing why SC's MyAccount generates more than 2.5 million visits annually.
Or you may find something entirely different to your liking.
There were about 40 additional blog posts with more than 1,000 views in 2017 covering a wide range of subjects from car-buying advice/information to car-finance information and vehicle-shopping research. And some just for fun, such as The car you drive may show your odds of getting a ticket and Automotive 'icon' Fiat 500 finds parking place in art museum's collection.
But the list is a good place to start off your 2018.