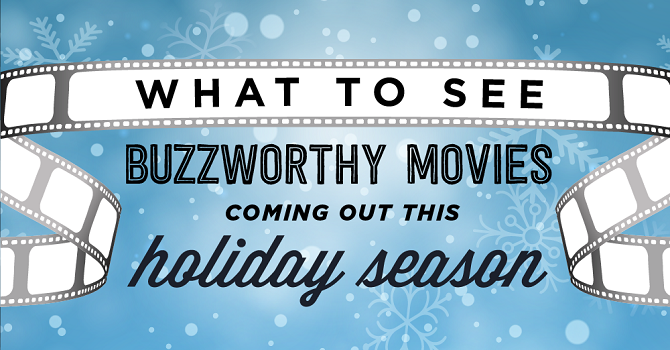 So many holiday movies and so little time.
But when the family events subside that often is where we turn for holiday entertainment.
Nearly 70 movies will have hit theaters during the "holiday season" – that is, going back to the Nov. 6 openings of the new James Bond entry, "Spectre," and "The Peanuts Movie" CGI animation.
But even if you're inclined to think of the holiday season starting around Thanksgiving, you can look forward to "The Hunger Games: Mockingjay – Part 2" (which opens a week before the holiday) or the animated "The Good Dinosaur" (opening the day before Thanksgiving).
And, of course, there's the latest installment of "Star Wars: The Force Awakens," which zooms into movie theaters the weekend before Christmas and surely will be a force into the new year.
So what about the rest of the holiday fare – besides turkey or ham and all the trimmings? Here's a look at the top 11 movies that are most anticipated and/or are getting the most opening buzz – in order of their approximate opening dates – and a list of other movies.
NOVEMBER
The Hunger Games: Mockingjay – Part 2
(Nov. 20)
Jennifer Lawrence is back as Katniss Everdeen for the fourth and last installment movie series, which 99 percent of 153,888 visitors who voted on movie webside Rotten Tomatoes (RT) are eager to see.
(Nov. 25)
"The movie is not 'Rocky VII,'" the director told Entertainment Weekly (EW). Rather, it's a spin-off. Featuring the Italian Stallion, Rocky Balboa. In a boxing movie …
(Nov. 25)
This animated Pixar movie – the studio's 16th – might make "apatosaurus" (a dinosaur) a household word, a "classic boy-and-his-dog tale with a twist," according to EW.
Other November openings:
Legend, Secret in Their Eyes, Carol, The Night Before*, Victor Frankenstein, The Danish Girl, plus My All American, Love the Coopers*, The 33, Spotlight
* Holiday-themed movie
EARLY DECEMBER
(Dec. 11)
A fish story of gargantuan proportions. OK, we know a whale isn't a fish. But "a mammal story" just doesn't have a ring to it. The story on which the classic novel "Moby-Dick" was based.
(Dec. 18)
If you didn't know Luke Skywalker, Princess Leia and Han Solo are back, it's likely you don't care. Nevertheless, "most of us are probably seeing it at least once this holiday season," predicts RT.
(Dec. 18)
Comedic duo Tina Fey and Amy Poehler star as sisters who decide to throw one last house party for their high-school classmates before their parents sell their childhood home. What could happen?
Other December openings:
Macbeth, Hitchcock/Truffaut, Life, Close Range, The Lady in the Van, The Letters, Christmas Eve*, Krampus*, Youth, The Dark Horse, The Big Short, Alvin and the Chipmunks: The Road Chip, Son of Saul, Anomalisa
CHRISTMAS DAY
(Dec. 25)
The movie is about a doctor who discovered the long-lasting effects on American football players of repeated blows to the head. Starring Will Smith, it's a story the NFL didn't want told.
(Dec. 25)
Will the long-awaited, almost mythical Western find an audience after being thrust into controversy by director Quentin Tarantino's recent comments on the police?
(Dec. 25)
Based on a true story, this revenge saga of the Old West features Leonardo DiCaprio and Tom Hardy, who "endured hell" during filming in Alberta, Canada, and Tierra del Fuego in South America.
(Dec. 25)
Despite its holiday-sounding title, the movie is an "intense emotional and human comedy" featuring
Jennifer Lawrence, Bradley Cooper and Robert De Niro, teaming up again with director David O. Russell from "Silver Linings Playbook" (2012) and "American Hustle" (2013).
(Dec. 25)
What would the holidays be without an action thriller – a reboot of a 1991 movie starring Keanu Reeves and Patrick Swayze – with a hero pursuing a high-flying criminal gang? Snowboarding, surfing, rock climbing, BASE jumping, wingsuit flying, motorcycling – an overdose of adrenaline.
Other Christmas openings:
45 Years, Daddy's Home, Where to Invade Next
"The weather outside may be frightful, but the offerings at the multiplex are so delightful," says Rotten Tomatoes in the introduction to its Holiday Movie Calendar.
We wish you many happy returns to the movies this holiday season, and, until next time, that's a wrap.
Sources: The Dallas Morning News, Entertainment Weekly, Rotten Tomatoes, Movie Insider, Collider.com, movie|fone and YouTube