It's back.
Finally.
Reincarnated as the 2020 Toyota Supra, two decades after the model's seeming demise, it reappeared onstage at the North American International Auto Show in Detroit.
It's a lot different than My First Car, the "sleek, red, two-door, now-classic [1984] performance car."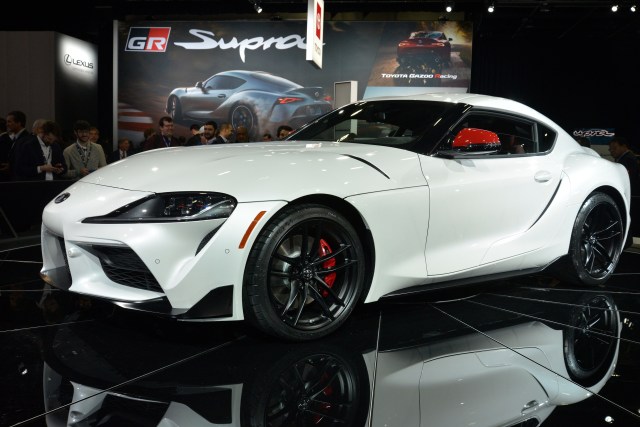 But the 2020 Toyota Supra makes no less of an impression than its storied ancestors. That was confirmed when a 44-second video of the 2020 model "accidentally got tweeted ahead of its official reveal at the Detroit Auto Show" by Toyota Mexico (@ToyotaMex).
The tweet was removed almost as fast as the Supra appeared to be traveling in the video. And then came the official reveal at the North American International Auto Show in Detroit.
The new Supra, which "has been teased for nearly [20] years," was developed alongside the BMW Z4, and is "based on the Toyota FT-1 concept car from 2014," according to a Jalopnik.com report, The 2020 Toyota Supra Is Here and It Looks Glorious.
"The new Toyota Supra has been a long time coming," said Jalopnik. "Like, a really long time."
Comeback of a special car
"I'm sure for each of you there's been at least one car in your life that you have a particular attachment to, one car that holds a special place in your heart, and for me the Supra is it," said Akio Toyoda, president of Toyota Motor Corporation, when introducing the new Supra at the Detroit auto show. "Back in the day my old Supra and I spent countless hours together."
"I can honestly say that this new Supra is not just fun to drive, it's totally lit!" said Toyoda. "According to my son this means amazing or super excellent. The new Supra builds on its heritage and then some."
Formula 1 racecar driver Fernando Alonso, who drove a matte gray metallic Supra onstage, concurred.
"It really handles like a race car. I thought the cornering was great. It's got a quick gear shift, fast acceleration, nice braking performance, the electronics are quite sophisticated," said Alonso. "It's like a race car you can drive quite comfortably every day."
Making a good impression
The 2020 Toyota Supra is expected in showrooms this summer, but will be available only with an automatic transmission, perhaps a little disappointing for purists.
If the latest Supra incarnation is anything like its ancestor (and the video clip did nothing to dispel the prospects), driving it also will be "like sitting atop a rocket – or how I imagined that would feel – especially at night on the expressways of northern New Jersey with the engine roaring."
Like its ancestor, "You just need to give it time, and find the right road," reported a Jalopnik reviewer after driving a prototype last fall. "This [new] Supra has been benchmarked against the Porsche Cayman and is similarly sized overall … [but] remember, it's a BMW underneath."
"It's agile," the reviewer wrote. "Stupendously so."
'Succeeds at looking different'
For a high-performance sports car that is expected to compete for buyers against the likes of the Nissan 370Z, Ford Mustang GT and Chevrolet Corvette, the "curvy and muscular" Supra "succeeds at looking different than anything else on the road," autoblog.com reported.
The Supra Launch Edition will be available in exterior colors of Absolute Zero White, Nocturnal Black and Renaissance Red 2.0, according to Toyota. The white and black editions will sport red interiors, while the red version will be dressed out with a black interior.
Toyota also revealed other important details of the new Supra model.
Now that Supra fans' dreams finally have come true, they'll have to decide whether to ante up to purchase a 2020 model, expected to be priced around $49,990 for a base model.
That's a far cry from the $16,000 we paid – and which seemed like a fortune – in 1984.
But "the car was so wicked it looked like it was moving fast even when it was parked in our driveway, which wasn't very often – The Supra was just too much fun to drive."
That being said, how much are your dreams worth?