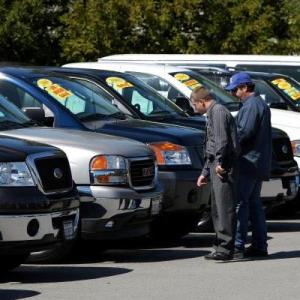 About two thirds of vehicles bought in the United States are pre-owned, and it's no wonder given the value for money they offer.
Great savings can be found, particularly on low-mileage late models, when someone else has already taken the depreciation hit by driving that new car off the lot.
However, there are more things to consider when you're in the market for a pre-owned vehicle. The following explains key differences in shopping for a used car or truck.
Research expert opinion and consumer reviews online to decide not just on a model or two but also – importantly for a used car – to discover which was a good year of production. Reliability and fuel economy can vary for a particular model according to the year it was made, and will affect the on-going cost of ownership.
Research a fair purchase price but for a used vehicle include your mileage preferences to get a more accurate idea of what to pay.
Check the history
Unlike a new car, one that's used has a history. Be sure to view the vehicle history report (often Carfax and AutoCheck) with important details like accidents and ensure a mechanic has inspected the vehicle. Ask for its service records to look for regular maintenance, and steer clear of cars with major repairs.
If you're looking for financing, bear in mind the terms for a pre-owned vehicle. Santander Consumer USA works with dealers nationally, providing used car loans for vehicles eight years old and newer with less than 120,000 miles. RoadLoans.com offers loans direct to consumers on the same basis, and you can get approved before you shop.
New cars are bought from dealerships. With used cars there are more options such as a franchised dealership, independent dealership or private seller.
Private sellers and independent dealerships can be thought to offer lower prices and more choice including older and higher-mileage cars. Independents encompass used car superstores like CarMax – with huge ranges – and specialty dealerships known for particular brands or styles. However, at franchised dealerships the risk of buying an unreliable car is arguably smaller as the used vehicles are typically newer.
Certified pre-owned
At franchised dealerships there is also the option to buy a certified pre-owned (CPO) vehicle backed by the manufacturer. It has been rigorously inspected, repaired to their standards where needed and comes with an extended warranty for added peace of mind.
Remember a car older than three or four years may be outside the manufacturer's warranty so you will foot the bill for repairs down the road. Think about a vehicle service contract such as Santander's S-Guard, which can be rolled into your financing, to protect your outlay.
CarMax, pioneer of the used-car superstore concept and reportedly the nation's largest used car retailer, presents a further choice. Its CarMax Quality Certified program is similar to a CPO plan, involving a detailed inspection, and an extended warranty – the MaxCare Extended Service Plan – can be customized to your driving habits for an extra cost.
If you want to buy from a private seller, check if money is owed on the vehicle. Make sure the note is paid off and title signed over to you before handing over payment.
New or used, after careful negotiation and the deal is closed, don't forget the fist pump as you walk toward your new ride.