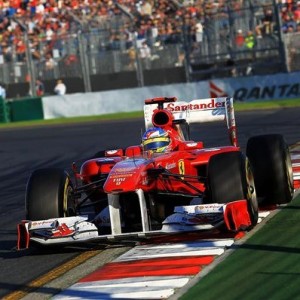 Scuderia Ferrari driver Fernando Alonso believes the Santander-sponsored team can "fight for the championship" in Formula 1 this year.
Alonso's comments came in the run-up to the second race of the F1 World Championship scheduled this weekend at the Sepang International Circuit in Kuala Lumpur, Malaysia. Alonso finished fourth, just off the podium, in the first race of the season two weeks ago in Melbourne, Australia.
"In our case, we need to see how the next races go in terms of our own performance to learn how we can quickly develop the car to be in better shape," the Spaniard said. "In Australia we were not happy with the performance we showed and we need to improve as quickly as possible."
Alonso's Ferrari teammate, Kimi Räikkönen, finished seventh in the Australian Grand Prix.
Two drivers sponsored by Spain-based banking giant Santander, rookie Kevin Magnussen and Jenson Button of McLaren Mercedes, finished on the podium with second- and third-place results, respectively.
The Santander Group, parent company of Santander Consumer USA, an auto and consumer finance company based in Dallas, TX, and Santander Bank of Boston, MA, also sponsors the British Grand Prix at Silverstone and the Grand Prix of Germany at Hockenheim – both in July.
"We have more potential than we showed in Australia," Alonso said at the Ferrari offices at Sepang. "We need to put everything in place, and then we will have a better weekend.
"The team has the facilities and the talent to do a very good job. We can be strong and we will do better, I'm sure. It's not been a perfect start. It seems like a repetition of the last couple of years, but these are different rules and a different rate of development applies. Our hopes are perfectly intact."
Alonso was referring to a number of significant rules changes introduced for the 2014 championship, including engine power, car design, fuel limits, testing, points and penalties.
The driver's full comments are available online. See the full F1 schedule at formula1.com.