How much time you spend in traffic someday may depend on whether you are willing to turn over decisions about the route you take to a superfast computer.
Think of it as a quantum leap into the future of commuting that could save you hours of delays a year.
Ford Motor Company is working with Microsoft on a solution that involves use of high-speed "quantum" computing to monitor traffic flows and identify alternative travel routes in real-time, possibly meaning the end of the road for commuter delays.
Volkswagen is working on similar technology to significantly improve traffic flow, i.e., your commute.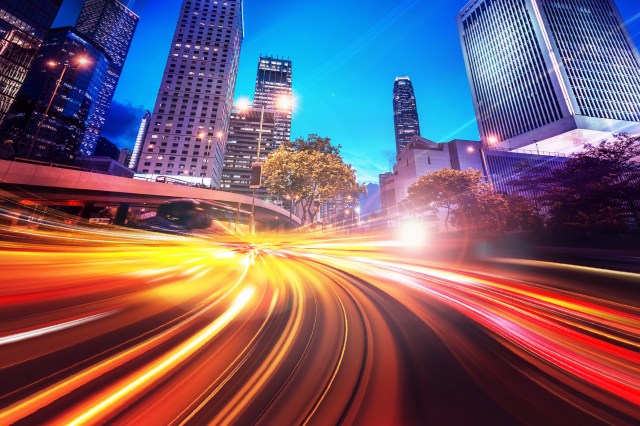 In Los Angeles, CA, for example, that could mean a significant reduction in delays that amount to nearly 15 eight-hour workdays a year, or three work weeks, based on a study by Texas A&M Transportation Institute and INRIX Traffic described in the 2019 Urban Mobility Report.
Ford and Volkswagen seem to be listening to the cries of despair, real or imagined, from commuters.
"During rush hour driving, numerous drivers request the shortest possible routes at the same time, but current navigation services handle these requests in a vacuum," wrote Ken Washington, chief technology officer at Ford. "They do not take into consideration the number of similar incoming requests, including areas where other drivers are all planning to share the same route segments."
RELATED
How much time do you spend in traffic? Probably too much
Quantum computing involves using what the technology website c|net called "the weird laws of atomic-scale physics" to solve problems, including traffic flow and congestion, by tackling "computing problems beyond the reach of conventional 'classical' computers."
Ford and its partner, Microsoft, have even used quantum computing traffic simulation on a regular computer in Seattle, WA, and found that using the technology cut traffic congestion 73 percent.
Volkswagen, with its partners D-Wave and Google, successfully tested its technology with a bus fleet in Lisbon, Portugal, in "the world's first pilot project for traffic optimization with a quantum computer."
"Traffic control is one of the many areas where quantum computers could be used, avoiding traffic jams and shortening waiting times," said Volkswagen.
Instead of "individualized routing," Ford and Microsoft are seeking a "more balanced routing system … that could consider all the various route requests from drivers and optimize route suggestions so that the number of vehicles sharing the same roads is minimized."
In Seattle, Ford and Microsoft "tested several different possibilities, including a scenario involving as many as 5,000 vehicles – each with 10 different route choices available to them – simultaneously requesting routes across Metro Seattle," according to Washington, the Ford technology officer. "In 20 seconds, balanced routing suggestions were delivered to the vehicles that resulted in a 73 percent improvement in total congestion when compared to 'selfish' routing."
"The results are promising, so now we're expanding our partnership with Microsoft to further improve [quantum computing capabilities] and understand its effectiveness in more real-world scenarios."
Seattle drivers experienced nearly 10 eight-hour days a year, two full work weeks, delayed in traffic, Texas A&M and INRIX said in the Urban Mobility Report, which is based on 2017 data. The city was one of 15 "very large urban areas," more than 3 million population, covered by the report.
So, of course, the question then becomes: When can we expect to see this quantum revolution?
"We're still several breakthroughs away from realizing the full vision of quantum computing," said c|net. "Even some fans acknowledge we're years away from high-powered quantum computers."
That doesn't sound like relief is just around the corner.
But Julie Love, the senior director of quantum computing at Microsoft, sounded an optimistic note about marrying current quantum knowledge to existing technology.
"Taking what we're learned about quantum computing and bringing it to hardware that's already available, we don't have to wait until quantum computers are deployed on a wide scale to take advantage of the technology. Using world-class quantum [processes] customized for specific problems, we can bring measurable improvements and drive change that can impact people's lives."
Are you ready to take the quantum leap?