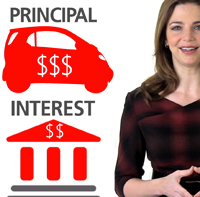 If you are like many car shoppers, myself included, you probably decide which shiny new or used vehicle you would like to purchase and where before you think too much about how you're going to pay for it. Sure, you might figure out whether a new vehicle might fit into the household budget, but then it usually isn't long before you discover you have more questions than answers about paying for it.
Unless you're going to pay cash, that means you'll be taking out a loan – or retail installment contract – which can be scary and confusing for many car, SUV or truck buyers. Especially scary for folks such as students, young families and many others that may have less-than-perfect credit or no credit at all. You really need answers from someone who knows what he or she is talking about when it comes to the complexities of financing a vehicle purchase.
At Santander Consumer USA, www.santanderconsumerusa.com, and RoadLoans, http://RoadLoans.com, we understand that financing your vehicle can sometimes be confusing. That's why we use multiple channels, including social media such as YouTube and Facebook, to help get you on the right road. If you have questions, we have answers, as in this selection of YouTube videos:
Santander Consumer USA
With its Drive®, RoadLoans and Santander Auto Finance brands, the company provides full-spectrum auto lead and lending programs on direct and indirect platforms.
What Everybody Should Know about Simple Interest Loans
When you receive a simple interest loan from Santander, it's important to be aware of two important terms — principal and interest — and how they can affect your account.
Second Chances (Customer Testimonial)
Hear Rusty, a repeat customer of Santander Consumer USA, tell how Santander gave him a second chance after he was denied financing several times by other lenders.
Auto Dealers about Santander Financing
Michelle Gonzalez, finance manager at Silver Star Mercedes in New York, describes how Santander's full-spectrum finance program has helped grow their business and allowed customers, who were otherwise unable to get an auto loan, get pre-approved and into the car of their dreams.
This is what LaDonna, a customer from Las Vegas, had to say about working with Santander: "I have experienced a great deal of assistance and flexibility when dealing with you under financial stress. Because of that, I have had my loan with you for three years now. Thank you for helping me when no one else would approve me."