A lot of car stories are worth telling because they are interesting, informative or just plain fun, even if your main automotive interest is driving to your destination.
Who wouldn't want to hear about a service that allows subscribers to drive a different car every day?
Well, OK, how about an adjustable, low-maintenance, long-lasting new tire? Or how much better U.S. fuel economy has gotten despite the surge in popularity of SUVs?
And, did you know that consumers prefer to buy used cars at new-car dealerships? Or that you should focus on the price, not the monthly payment, when purchasing a vehicle?
Those are the sort of car stories we'll try to find so you can just enjoy the ride.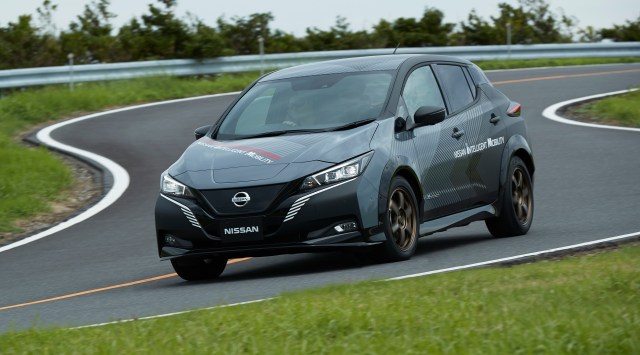 Drive a different car every day with Nissan Switch?
Nissan's new auto subscription service will allow a customer to swap between the company's products as often as they wish, even on a daily basis, The Detroit Bureau reports.
The new service targets mainstream customers and becomes the most flexible of subscription programs that have been launched the last several years by luxury brands such as Porsche and Mercedes-Benz.
"Nissan Switch is another way that Nissan is testing alternatives to the notion of traditional mobility, without long-term financial commitments for our customers," a spokesman told The Detroit Bureau.
We're saving gas, driving cleaner, despite SUVs
The average fuel economy for new vehicles in the U.S. reached a record high, while still dampening carbon dioxide emissions, according to the latest report from the Environmental Protection Agency.
The average fuel economy of new vehicles rose to 25.1 mpg in 2018 from 24.9 mpg in 2017, meaning "significant progress has been made to improve fuel economy and reduce climate-changing greenhouse gases," reported The Car Connection.
The corporate average fuel economy was 19.3 mpg in 2004.
Here's something entirely different from Goodyear
Goodyear has come up with an idea that puts a whole new spin on tires with reloadable capsules instead of tread that are expected to extend tire life and reduce waste.
The reCharge is a "revolutionary self-regenerating concept" comprising reloadable and biodegradable tread capsules and a customized liquid that will adapt to driving conditions, climates and driver preferences, while simplifying tire maintenance, repair and replacement.
"The tread would be supported by a lightweight, non-pneumatic frame … that would eliminate the need for pressure maintenance or downtime related to punctures," Goodyear said.
New-car dealers preferred for used-car purchases
Most Americans prefer shopping for a used vehicle at a dealership that sells new and used, rather than a private sale, an online platform or a dealership that stocks only used vehicles, WardsAuto reports.
A survey by Mintel market research firm found that 53 percent of Americans feel most comfortable shopping at new-car dealerships, while 67 percent "think the car-buying process is stressful."
WardsAuto, which reported survey results, suggested that the best dealerships "find out more about [shoppers] needs and preferences to help them buy the best vehicle for their lifestyles and budgets."
10-step guide to a smarter new-car purchase
Nobody said getting a good deal on a new car is easy.
But there are ways to make a smart choice easier while sticking to a budget, according to an online column "10 tips on how to buy your new car smarter" at Driving.ca.
"You'd be surprised how many car shoppers don't have a clue what they're really paying for their new vehicle," writes Nadine Filion in Driving. "Some are unaware of the interest rate on their financing. A one percent difference on a five-year financing term can represent a couple of thousands of dollars."
For starters, though, focus on the overall price, not the payment, and go from there.